With the recent coronavirus pandemic, remote working is now in vogue. And so are many remote work tools.
You may not be affected by the virus yourself but you are most affected by its effects.
And so is the economy and every business out there. From The Big 5 to small family businesses, working remotely has become very essential.
Remember when I said I didn't like micro-management? This is because each employee is their own manager. So how do we do that?
Gwork is a platform dedicated to increasing productivity. This platform generates profiles of employees according to parameters such as:
Tasks status (Completed, started, due, overdue, delivery speed)
HR Data
Sales Data
Net Promoter Score (NPS)
Employee evaluation
Team activities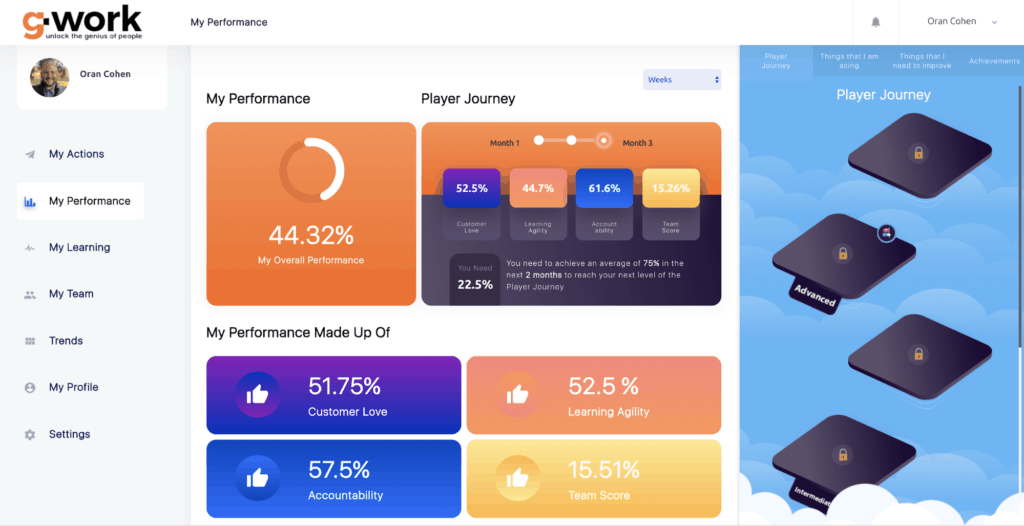 Gwork effectively lets employees see what they are doing well and what areas they might need improvement. Not only that but it shows them how they can improve on a weekly basis with practical actions.
In addition, Gwork has a reporting dashboard that is fully integrated with various systems to capture information and data on a daily basis.
Ultimately, this tool can be helpful to every employer and employee alike. It is about transparency, guidance and performance.
Email, chatbots, on-site widgets – as an agency we have many different contact points.
But just because we're digital doesn't mean we shouldn't use traditional tools. That's why our two phone numbers appear at the foot of our homepage. Anyone who prefers to make phone calls over email can, well, call us.
So what happened now that there is no one in the office?
Does our phone ring automatically in a cold dark room?
Not at all!
We have Toolfree Forwarding installed.
Now, whenever new leads call us, their calls are automatically transferred to our sales representative's smartphone.
And that's how we answer our calls anywhere – for a little over $20 a month (+ minutes of talking time, of course).
Slack is the reason we talk about channels and not inboxes.
Slack gives you access to real-time conversations with all of your coworkers. It is the glue that holds the team members of a team together and, at the same time, holds all these teams together.
This communication tool is all about agility and transparency. It helps us to remain productive. Also, it helps in maintaining human connection between us. In addition, Slack integrates with many other apps, from Zapier to Google Drive.
Slack is great and all but what do we do with our meetings and video conferences?
Since the majority do not enjoy meetings much, it gets a little better when we do it from the comfort of our home. And Zoom makes selling meetings easy.
From starting and booking meetings to sharing content, Zoom makes our remote working life a lot easier.
The sound and image quality is unmatched with HD video and high quality audio.
Zoom integrates well with Office 365, Exchange and Google Calendar.
Speaking of which, let's take a look at the next remote working tools we use these days.
But surely. How can Google Calendar miss remote work tools list?
The way we use Google Calendar is simple: 100% transparency.
One can also take a look at another colleague's (professional) Google Calendar. And so no one ever knows when a fellow ally is available.
It works in our remote scenario as well as it works back in the office!
Nobody likes data breaches. That's why we have a clear desk policy. But now that everyone is working from their home desk, we have nothing to worry about. Well, close enough.
We still need to keep an eye on our hard drives. However, to avoid this altogether, we have a policy that we do not store anything in our hard drivers.
Everything is on the cloud: Google Docs, Sheets, Collaboration documents, PlayBooks – everything.
Last Pass is the only reason none of us need to remember any passwords again. And you shouldn't either.
If you don't know about Last Pass then it is a browser extension. This extension saves and remembers all your passwords. It also allows synchronization between all browsers and devices.
Additionally, Last Pass has security notes. It is a highly protected digital notepad where you can store important documents like insurance card, membership etc.
If marketing automation is our religion, then active campaigns have to be priests.
Active Campaigns is the platform we use not only for our email campaigns but also for nurturing leads.
Both our marketing and sales teams use it as much as they want.
Marketing likes it to build automation for the customer journey and create a growth funnel.
Sales automatically create new deals. Active campaigns can create a deal when a lead takes a certain action – such as submitting a form or downloading a lead magnet. There's also lead scoring based on lead actions, according to which you can target and message the most engaged leads (yes, automatically).
We also use Calendly if you're still not convinced how much we love automation.
It's not very easy to schedule meetings with people outside your company.
Different schedules and time zones make this even more difficult. What Calendly does is that it creates a link that you send to invitees. That link has specific time slots that you set and they have to choose one of the options given by you.
Calendly also integrates with the most popular calendar apps (Google, Outlook, Office 365, iCloud), so I and sales never get double-booked.
It's also a great tool for large sales teams. Get it: It automatically (and evenly) distributes leads to the entire team according to each member's ability. absolutely accurate?
Teamwork is a project management tool that allows you to break down projects into layers of tasks and subtasks, so nothing comes out of the cracks. Plus, everyone knows what to do and
when it happened.
It has all the advanced features including task management, instant chat, time tracker and profitability report. Teamwork helps you communicate with colleagues and customers in real-time without switching platforms.